Legal Counsel and Senior Program Officer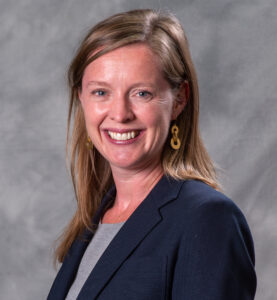 Kelly comes to us with executive leadership experience in development, donor engagement, gift planning, nonprofit strategy development and nonprofit legal and regulatory issues. Kelly previously served as vice president of development and donor engagement at the Catholic Community Foundation in St. Paul and before that spent time as a Planned Giving Officer at the Minnesota Medical Foundation. She worked at the Caux Round Table as a Program Associate and interned at the U.S. Department of Justice. Kelly has responsibility at the foundation for a portfolio of human and social services grantees and serves as the attorney for the foundation.
Kelly is a member of the board of directors for the Northfield Youth Choirs and the Board of Advisors for the Liturgical Press at St. John's Abbey. Kelly also serves as a mentor for the University of St. Thomas School of Law's mentor externship program.
Kelly earned her undergraduate degree in Theology and English at the College of St. Benedict/St. John's University (we know, another Bennie/Johnny; but, Mike was outnumbered and needed a buddy). Kelly also holds a juris doctor from the University of St. Thomas School of Law (so has already redeemed herself), and is a member of the Minnesota State Bar.
Kelly can be found practicing or teaching yoga (she's also a 200 hour registered yoga instructor) cooking, spending time with friends and family, traveling, reading or playing golf. Kelly and her husband live with their two young children and a couple of pups in Lakeville.