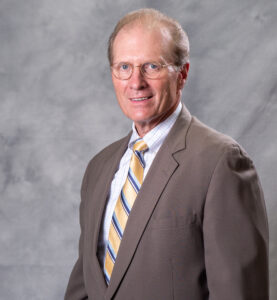 Mark is President & CEO of the Richard M. Schulze Family Foundation and is responsible for the foundation's overall management and strategic direction. Also a member of the Foundation's board of trustees, Dienhart joined the Foundation in July 2013. Dienhart researches the Foundation's priorities, makes grant recommendations to the Foundation's board of trustees, oversees monitoring and measurement of recipient performance to ensure that grants produce meaningful results, and supervises the Foundation's staff and infrastructure.
Dienhart previously was executive vice president and chief operating officer of the University of St. Thomas in St. Paul, Minnesota. As a top executive at Minnesota's largest private university for the past decade, he was responsible for managing non-academic administrative operations. He directed a $515 million capital campaign that added seven major buildings, including two downtown Minneapolis structures financed by donations from Richard M. Schulze: the School of Law and Schulze Hall, home of the Schulze School of Entrepreneurship. Under Dienhart's leadership, St. Thomas' net assets grew 63 percent, endowment assets grew 68 percent, undergraduate enrollment grew 21 percent, applications doubled and budgets balanced. Overall, Dienhart worked 27 years over two stretches for St. Thomas.
Before St. Thomas, Dienhart was a senior vice president with U.S. Bancorp. He earlier spent 10 years with University of Minnesota men's athletics, including five years heading the department as director. Dienhart started his career at St. Thomas in coaching. Within six years, he was head coach of both men's track and field and football. He led St. Thomas to its first national championship football playoff and an NCAA Division III national championship in men's track. He left coaching to become executive director of public and alumni affairs at St. Thomas.
A Minneapolis native, Dienhart graduated summa cum laude from St. Thomas in 1975 with a Bachelor of Arts degree in philosophy. A member of the St. Thomas Athletic Hall of Fame, he was an All-American and Academic All-American in both football and track and field. A national champion and national record-holder in the shot put, Dienhart won the 1975 Tommie Award, given annually to the senior who best exemplifies the ideals of the university. The Buffalo Bills selected him in the National Football League draft.
A former NCAA postgraduate scholarship winner, Dienhart earned a master's in journalism and mass communications and a doctorate in higher education administration from the University of Minnesota and was awarded a Bush Foundation Fellowship. He has completed postdoctoral studies at Stanford and Harvard universities.