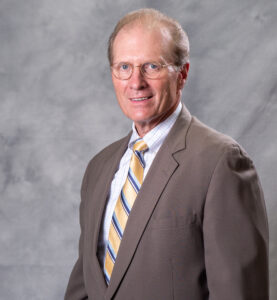 As president and chief executive officer, Mark is responsible for the overall management of the Richard M. Schulze Family Foundation. Also a member of the Foundation's board of trustees, Mark joined the Foundation in July 2013. Mark researches possible areas of investment within Foundation focus areas, makes grant recommendations to the Foundation's board of trustees, oversees monitoring and measurement of grantee performance to ensure meaningful results, and oversees the Foundation's staff and infrastructure.
Previously, Mark was executive vice president and chief operating officer of the University of St. Thomas in St. Paul, Minnesota, and was responsible for managing nonacademic administrative operations and for directing a $515 million capital campaign, the largest in St. Thomas's history. Before returning to work at St. Thomas, Mark was a senior vice president with U.S. Bancorp and spent 10 years with the University of Minnesota men's athletics, including five years heading the department as director.
A Minneapolis native, Mark graduated summa cum laude from St. Thomas in 1975 was an All-American and Academic All-American in both football and track and field, and played briefly for the NFL's Buffalo Bills. He contends that he and O.J. Simpson were never BFFs. He earned a master's and a doctorate in higher education from the University of Minnesota, was awarded a Bush Foundation Fellowship and has completed postdoctoral studies at Stanford and Harvard Universities. He is a member of the St. Mary's University of Minnesota faculty in the Twin Cities. Mark and his wife are the proud parents of three daughters and grandparents of yet four more girls and TWO boys! Mark remains gender outnumbered in their St. Paul home, where he lives with his wife and their well-loved and well-fed Olde English Bulldog.